Ginkgo biloba
and
Art Nouveau in l'Ecole de Nancy
Nancy was the centre of the Art Nouveau movement (New Art) in France starting at the end of the 19th century inspired particularly by Japonisme. The Ecole de Nancy's interpretation of Art Nouveau consisted of nature depicted with fierce realism, whereas elsewhere it was more abstract and refined or absent.
The leaves and seeds of the Ginkgo were one of the patterns used.
During my visit to Nancy in 2001 I took photos of some buildings and objects showing Ginkgo leaves/seeds .




click photo to enlarge

metal bands on pilasters
with Ginkgo leaves at the entrance
by Louis Majorelle

Also Ginkgo leaves on front, railings and balustrades.

Banque National de Paris
(former Bank Renauld)
9 Rue Chanzy
1910
(Architects Emile André/Paul Charbonnier)





click photo to enlarge

La Maison Ginkgo biloba
35 Rue Victor Hugo:
Ginkgo leaves on stone consoles and roof

(in the same rue at no. 16: Jardin Realise, 1 female Ginkgo tree,
about 1900, 15 m)
.

Daum-collection:
glassware with Ginkgo leaves (1900-1920)
Musée des Beaux Arts,
3 Place Stanislas

click photo to enlarge
iron Ginkgo leaves on door and door-handle

24 Rue St.-Dizier
1909-1913
(Déon/Jacques Gruber)






click photo to enlarge
8 stained-glass windows painted by Jacques Gruber with Ginkgo leaves and seeds.

Brasserie l'Excelsior Flo,
1910. 3 rue Mazagran.
Historical monument.
Arch. Lucien Weissenburger/Alexandre Mienville.
Furnishing, stucco fern decoration, light: Louis Majorelle.


Video below:

click photo to enlarge
Louis Majorelle

Banisters with Ginkgo leaf design 'Monnaie-du-pape'
by
Louis Majorelle, Majorelle Freres, Jean Keppel (ironwork)

design 1903, Nancy





click on picture to see more photos
Pharmacie du Ginkgo

interior decoration by Louis Majorelle,
architect Paul Charbonnier

38 Rue des Dominicans, Nancy

1915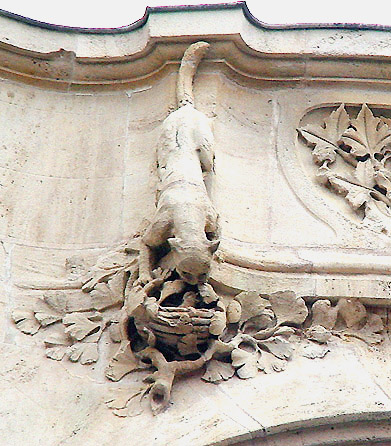 cat with Ginkgo leaves
on facade of 97 Rue Charles III (architect Georges Biet)



Ginkgo and Art Nouveau in Prague (Czech Republic): click here.
More Jugendstil-Art Nouveau photos here.
All photos/video © Cor Kwant
Copyright information.