Tom Phillips
A Humument Page 297
second version 1986, Ginkgo leaves
photo courtesy Tom Phillips, thanks!
A Humument 1966 - ongoing
Medium: pen, ink, gouache and collage on bookpage
Dimensions: 21 x 14.8 x 5 cm

A Humument has been a work in progress since 1966 when artist Tom Phillips set himself a task: to find a second-hand book for threepence and alter every page by painting, collage and cut-up techniques to create an entirely new version. The book he found was an 1892 Victorian obscurity A Human Document by W.H. Mallock and Phillips transformed it into
A Humument.
The first version was printed by the Tetrad press in 1973, and Phillips has continued to transform it, revise it and develop it ever since.
Ginkgo
From Tom Phillips's blogpost August 8, 2008:
"I am writing this in the nominal kitchen, an attic at the back overlooking a huge ginkgo tree which dominates the garden (a branch of which features in my portrait of Iris Murdoch). The smaller ginkgo seen here was planted in 1991 over my mother's ashes (for which, with the help of Jennifer Lee, I made a terracotta casket). "
Image © Tom Phillips 2015

Tom Phillips is an English artist whose work is fuelled by several persistent preoccupations, expressed through an even larger number of formats. These include painting (both figurative and abstract), opera (composer, librettist, set designer), concrete poetry and ornamental forms of writing, sculpture and site-specific designs (mosaic, tapestry, wire frame objects). He has also taken on several para-artistic roles – critic, curator, committee chairman for the Royal Academy, translator - all of which he has folded back into his art. More info here and here.
Other work with Ginkgo: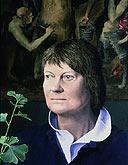 Portrait of Iris Murdoch with Ginkgo branch
by Tom Phillips:
large image and info click here
© Cor Kwant - The Ginkgo Pages