These are photos of Ginkgo biloba trees in

China

and some information about the seedproduction.
Be patient, they load quite fast.

More details about the locations and the trees on my Where-page.
Ginkgo trees in Yan'an city (Shaanxi
province), located about 600 km north of Xian.
Photo Sando Tomoki

Old Ginkgo biloba in Liu Yuan (Lingering
Garden) in Suzhou, JiangSu province.
34 m tall, trunk diameter 1 m.
Photo Peter Del Tredici in Arnoldia 1991

Zhjiang Province, Yang village, Fuyang
Photo Jimmy Shen
photo Jimmy Shen


Xincun town, Tancheng city
(Shangdong province).
About 2,100 years, male, 37 m,
with grafted female branches, girth 7,2 m.
Photo HeMeng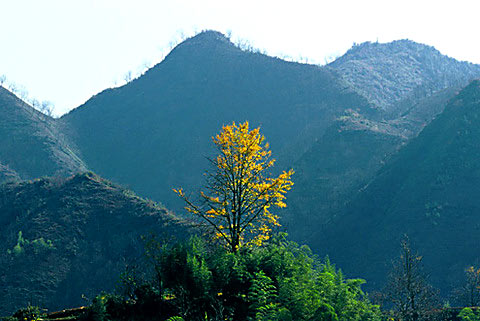 TianMuShan region, exact location:
Xialin Village, QingLianfeng Town, LinAn, Zhejiang
Photo Jimmy Shen
photo Jimmy Shen

Ginkgo market, XingCun town, Shangdong province
Photo HeMeng


Shaolin temple, Henan Prov.

This Ginkgo is about 1500 years old. Monks tap on the tree's bark with their fingers before entering the temple which causes small holes in the bark.
Photo Marc Bautry

Lichuan county, Hubei province
In this province are many Ginkgo trees,
possibly growing in the wild.
Photo Wei Gong


Ginkgo with many chichi near the Tianshi cave at the Qingcheng Mountain, Chengdu, Sichuan province.
It is said to be planted by a Taoist in the East-han dynasty (25-220 AD), so the tree is more than 1500 years old.
Photo Hanghui Kong
---
| | |
| --- | --- |
| | Tuole, a village with wild Ginkgos, situated in Guizhou Province near Panxian and Kunming. Tuole is called 'One-Thousand-Ginkgo-Tree Village', because it is surrounded by more than 1,100 Ginkgo trees of over 500 years old, also a specimen of over 1,000 years old grows there. |
| . | . |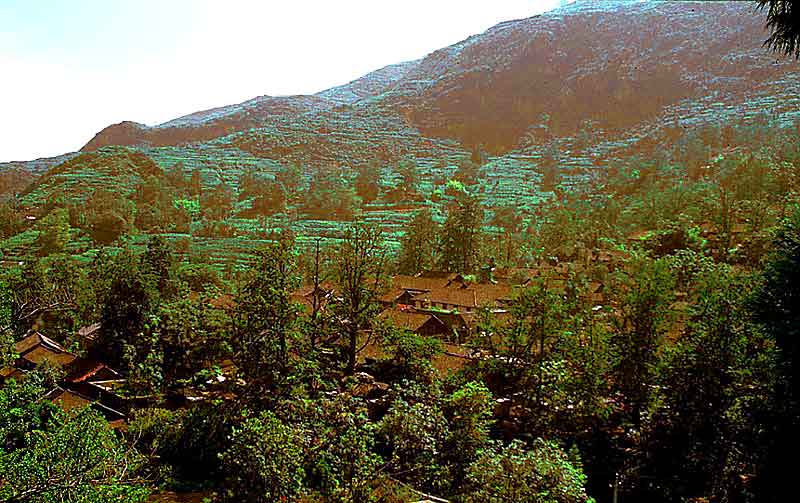 Tuole, China
- One-Thousand-Ginkgo-Tree Village -
All trees you see on the photo are Ginkgos.
photos Tuole: Bernadette Ackermans and Wim Oldenhof
---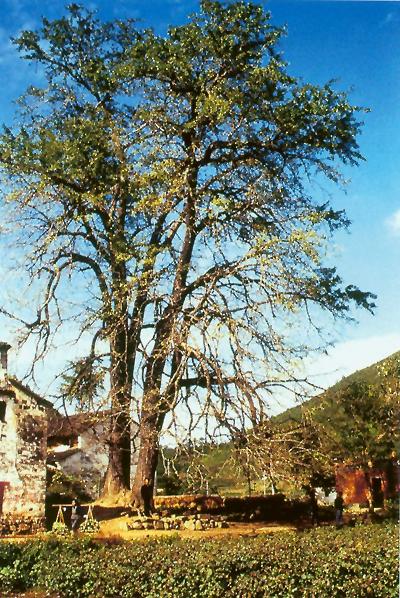 An ancient female Ginkgo tree growing in Yang Tang village, Zhejiang province, in China.
The tree had a diameter of 231 cm and was 33 m tall in 1989.
In 1988 the tree produced 379 kilograms of cleaned seeds.
Photo Peter Del Tredici. From: Del Tredici P, Ginkgo biloba, Enzyklopädie der Holzgewächse:
Handbuch und Atlas der Dendrologie - 6. Erg. Lfg., 10 pp. Ecomed Verlag, Landsberg, 1996.
Gingko plantation in Taixin City, Jiangsu Province

Photo Prof. Fuliang (Sam) Cao, Nanjing Forestry University

Gingko seed plantation in Xingcun, Tancheng city, Shangdong Province
Photo HeMeng
The seedsprocessing in China is done by knocking them off the trees in mid-September with long bamboo poles or they are collected from the ground shortly after they fall.
Then they are put in plastic containers for a few days until the fleshy outer coat begins to soften, then washed in running water so that the fleshy outer coat rises to the top and can be poured off, leaving the heavy nuts to sink to the bottom. After that they are spread out to air-dry for 1-2 weeks and then they are bundled up and put in a cool environment for storage.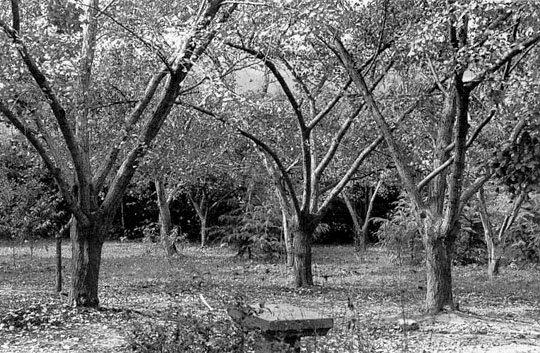 A grove of grafted Ginkgo trees cultivated for their edible nuts on Dongting Shan, Jiangsu Province.
The cultivar is generally grafted onto a seedling rootstock. The trees grow then vase-shaped
(topophytic effect). Usually 3-5% is male, sometimes a male branch is manually placed
within the crown of the female trees during the time of pollination.
700,000-800,000 trees produce an average of 6-7 thousand tons of dried nuts per year (1997).
Photo Peter Del Tredici. From: Del Tredici P, Ginkgos and people, a thousand years of interaction; Arnoldia, 51, 2-15, 1991.
Beijing (Peking)


Ginkgo trees at Lama Temple.
photo: Ruurt Stapel


Beijing (Peking)
Near the new shopping center close the Forbidden City.

photo: Ruurt Stapel
.
.


Henan, Zhengzhou
View of Drum Tower, left, and Bell Tower, right,
through leafless Ginkgo trees
at Shaolin Temple near entrance gate.

photo: Robert


Hai Yang Xiang, Guilin City, Guangxi, P.R.
Photo Prof. Fuliang (Sam) Cao, Nanjing Forestry University

.
.


SongShan : Shaolinshi, 1,400 years old
Photo Johan Staels



Ginkgo of c. 1600 in Yu-garden, Shanghai
Photo Wieland Haak/Constanze Krone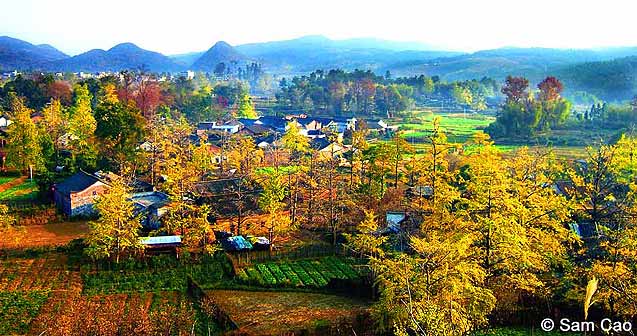 Hai Yang Xiang, Guilin City, Guangxi, P.R.
Photo Prof. Fuliang (Sam) Cao, Nanjing Forestry University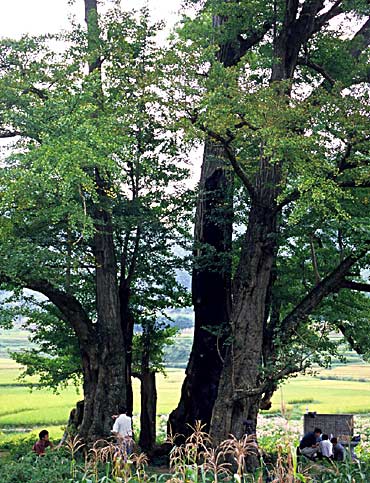 Guizhou province: Li Jiawan Grand Ginkgo King,
c. 100 km west of Guiyang,30 m, male,
c. 4,000-4,500 years old,
biggest Ginkgo tree in the world (Guinness Book of World Records 1998)
Photo Peter del Tredici (Arnoldia 2009, vol. 66, no. 3)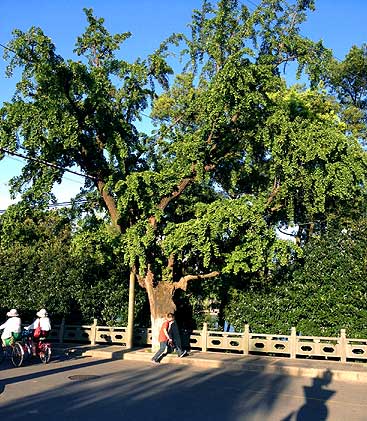 close to Moon-lake Park in Ningbo city, Zhejiang Province
photo: Sumate Tanutantivong
All photos on this page © the photographers.
More photos of Ginkgo trees in other countries: click here.
© Cor Kwant