Ginkgo biloba and Art Nouveau in Prague

~~Prague, the city with the Ginkgo leaf houses~~
The Art Nouveau/Secession period began in Bohemia (now Czech Republic) at the beginning of the 20th century inspired by artists' travels abroad, studies and exhibitions. Well-known are the paintings by Mucha, sculptures by Bilek and many architectural monuments in Prague. The buildings in Art Nouveau style often have a design on their facade consisting of tree branches with leaves. The best example is the Municipal House (Obecní dùm).
During my visit to Prague in 2003 I discovered several buildings and objects showing the Ginkgo leaves/seeds design. Below you can see some of the photos I took in this beautiful city.
Click on the small photos to view an enlargement.



Monumental allegorical figures are displayed all over the facade of the building most of them with Ginkgo leaves and seeds. Also painted and gilded metalwork elements.
Style: Neo­Baroque, Neo­Renaissance and both Western and Oriental influences fuse together with Czech Art Nouveau.
Sculptures created by a number of renowned artists: Karel Novak, Ladislav Saloun, Antonín Mara, Eduard Piccart, Bedrich Simonovsky, Frantisek Kraumann, J. Pekarek, A. Zoula, Frantisek Rous, Antonín Strunc, Josef Maratka, Cenek Vosmik and Frantisek Uprka.
Inside the building work by well known Art Nouveau artists among others Alphons Mucha.
The building houses two restaurants, a cafe, a large concert hall (Smetana Hall) and offers a place for exhibitions.
Obecní dùm (Municipal House)
5 Namesti Republiky
1903-1912
(Architects Antonín Balsanek/Osvald Polívka)
Obecní dùm : facades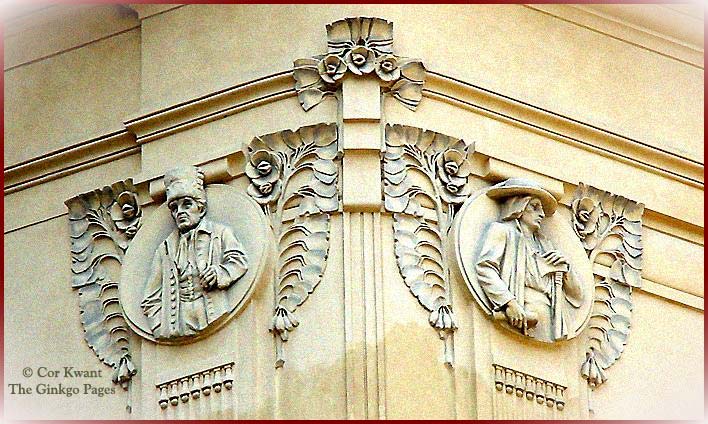 Obecní dùm : detail facade





Hotel Central

Ginkgo branches with leaves and seeds on facade


10 Hybernska

1898-1900
(Architects: Q. Belsky/F. Ohmann)




| | |
| --- | --- |
| | Click here for photos I took of various objects I saw in Prague, all showing the Ginkgo leaf design like this bracelet. |
Salvatorska

Ginkgo branches with leaves and seeds on facade of building at
2 Salvatorska



Central station
Ginkgo branches with leaves and seeds on facade.
1901-1909
(Architect: Josef Fanta)



Ginkgo and Art Nouveau in Nancy (France): click here.
More Jugendstil-Art Nouveau photos here.
All photos © Cor Kwant
Copyright information.