Czech: Jinan dvoulalocný, Ginkgo biloba.
Danish: Tempeltræ
Dutch: Ginkgo, Tempelboom, Waaierboom, Japanse notenboom (this last name originates from the idea that the tree came from Japan and the seeds resembled nuts, but now we know this is incorrect and the name is not in common use).
English: Maidenhair tree, Ginkgo, Kew tree, Fossil tree, Temple tree.
Finnish: Neidonhiuspuu (neidon = maiden's, hiuspuu = hairtree), Temppelipuu, Ginkgo.
French: Noyer du Japon, Arbre aux quarante écus (referring to its high price in the 18th century), Arbre des pagodes, Arbre à noix or Ginkgo biloba.
German: Ginkgobaum, Goethe Baum, Ginko, Entenfussbaum, Fächerblattbaum, Mädchenhaarbaum, Weisse Frucht, Beseeltes Ei, Tausend Taler, Bajm, Elefantenohrbaum, Goldfruchtbaum, Silberaprikose, Tempelbaum, Japanbaum, Japanischer Nussbaum, Grossvater-Enkel-Baum.
Hungarian: Páfrányfenyõ.
Icelandic: Musteristré (Temple tree), Musterisviður (Temple wood).

India (Hindi): Balkuwari.

Italian: Ginko.

Korean: Ginkgo, Hangjamok, Gongsonsu, Apgaksu, Baekgwamok and Okgwamok.

Polish:


Portuguese: Nogueira-do-Japão.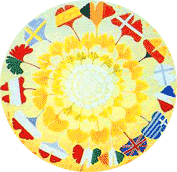 Singapore: Pakgor Su = white fruit.
South African: Ginkgo biloba, Maidenhair tree, Vrekboom.
Spanish:Arbol sagrado, Arbol de las Pagodes, Arbol de los 40 escudos.
Swedish: Ginkgo, Tempelträd.
Turkish: Mabet agaci (Temple tree)
Vietnamese: Cây lá quat, cây bach quà ginkgo.