'Gin(k)go biloba'
by Johann Wolfgang von Goethe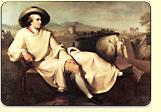 Famous poem about the Ginkgo.
In 'West-östlichen Divan' (book Suleika), 1819.
Read the poem and info: click here.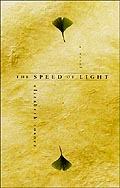 'The Speed of Light' by Elizabeth Rosner
about the aftereffects of witnesses to violence and survivor guilt in the children of Holocaust survivors.
Ginkgo on the cover and in the book.
304 pages ; Publisher: Ballantine Books (Trd); August 28, 2001.




'Wild Swans' by Jung Chang
about the lives of 3 generations of a family in China.
"In spring, the school was a sea of pink because of all the peach trees. But what I liked most was the two-story library, built in the traditional Chinese style. The building was encirded on both floors by loggias, and the outside of these was enclosed by a row of gorgeously painted seats which were shaped like wings. I had a favorite corner in these "wing seats" (fei-lai-yi) where I used to sit for hours reading, occasionally stretching my arm out to touch the fan-shaped leaves of a rare Ginkgo tree. There was a pair of them outside the front gate of the library, towering and elegant. They were the only sight that could distract me from my books."
524 pages ; Publisher: Anchor World Views; Reprint edition November 1992.

'The Lake' by Yasunari Kawabata
A man's obsession drives him to search for the perfection of youthful beauty in the women he follows. Dark novel with use of stream of consciousness devices and free association.
Ginkgo trees mentioned in the book.
168 pages; Publisher: Kodansha International; 1955.
.
'Il fantasma di Mozart, e altri racconti' by Laura Mancinelli
Ginkgo mentioned in the book.
230 pages; Publisher: Einandi.
'Se una notte d'inverno un viaggiatore' by Italo Calvino
(English title: 'If on a Winter's Night a Traveler')
Falling Ginkgo leaves mentioned in the book.
Harvest Books; October 1982.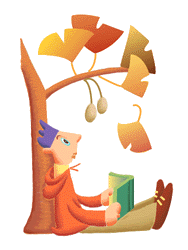 'Pale fire' by NABOKOV V.
In this book a short poem:
The Ginkgo leaf, in golden hue, when shed,
A muscat grape,
Is an old-fashioned butterfly, ill-spread,
In shape.
Penguin books, 1973.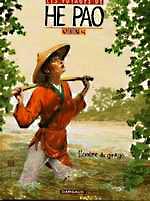 Les Voyages d'He Pao, part 2: 'L'Ombre du Ginkgo', strip book by Vink
Ginkgo images on the cover and in the book.
48 pages, 2002.








'Een heel huis vol' by Boudewijn Büch
Boudewijn Büch writes about his passion for the Ginkgo on pages 117-120: "Ik heb tientallen blaadjes van de boom uit alle mogelijke windstreken meegenomen, maar toch kan ik het niet nalaten nóg meer blaadjes naar huis te slepen. ...Het is vooral de magie van dat prachtige gedicht van Goethe dat mij tot de boom veroordeelde."
Rotterdam : Natuurmuseum Rotterdam - 165 p., 2001 (Dutch language)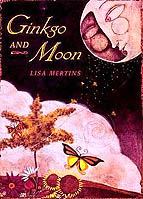 'Ginkgo and Moon' by Lisa Mertins
Ginkgo, a little tree, is in love with Moon, but Moon is too busy chasing the light of the dazzling Sun to notice, until Gingko overcomes Sun's efforts to overshadow him and captures Moon's attention, a tale of the beauty of nature and love.
Reading level: Ages 4-8,
Edition: School & Library Binding, April 1996
'Simile: Willow and Ginkgo' by Eve Merriam
Ginkgo and willow in the poem.
Read poem and info here.
'Under the Ginkgo Tree' by Sara Orwig
Ginkgo (only?) in title.
192 pages, Publisher: Bantam Books; December 1986.
'Ginkgo biloba, Árbol milenario' by Elena Martín Vivaldi
poem about a Ginkgo in Granada, Spain (1996).
Read the poem and info: click here.
'An den Ginkgo vor der Tür' by Peter Härtling
Poem about the Ginkgo.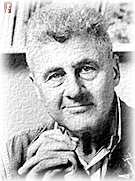 'The consent' by Howard Nemerov
poem about Ginkgo leaves
In: 'The Western approaches': poems, 1973-75
Publisher: Chicago : University of Chicago Press, 1975
Read his poem and info: click here
Ou-Yang Xiu (Hsiu) and Mei Yao-ch'en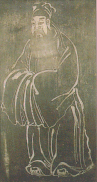 Exchanged poems about the Ginkgo in the 11th century in China (Sung dynasty).
Read more: click here.
Yosano Akiko, Saito Mokichi
These Japanese poets wrote verses about the Ginkgo (first half 20th century).


Japanese novels and stories in which the Ginkgo plays a role, for instance:


T. Shimazaki, 'Hakai' (novel, 1906), 'Icho no Ki' (juvenile story, 1917).
S. Natsume, 'Sanshiro' (novel, 1914).
R. Akutagawa, 'Hana' (a short story, 1916).
K. Miyazawa, 'Icho no Mi' (juvenile story).
K. Nakamura, 'Kamakura Monogatari' (Stories of Kamakura, about 1659).


'Hokwerda's kind' by Oek de Jong
Ginkgo trees in Amsterdam are mentioned in this Dutch novel on page 69 + 444 as a symbol of hope:
"Ooit had ze hem meegenomen naar de Vespuccistraat om hem de ginkgobomen te laten zien, die aan beide zijden van de straat staan: elegante, grillige en sierlijke bomen. Japans, noemde ze die uitheemse bomen en ze had hem de waaiervormige blaadjes laten zien. Onder geen beding had ze door de straat willen lopen. Ze had hem de bomen vanaf de hoek getoond en verteld dat het jarenlang die bomen waren geweest, die betoverend mooie bomen, die haar de hoop hadden gegeven dat haar leven ooit op een wonderbaarlijke, onbegrijpelijke en niet voor te stellen manier zou veranderen."
Uitgeverij Augustus, Amsterdam - 444 p., 2002 (Dutch language)

Arthur Sze, The Ginkgo Light, poetry
A temple near the hypocenter of the atomic blast at Hiroshima was disintegrated, but its Ginkgo tree survived to bud and bloom.
The poet Arthur Sze extends this metaphor of survival and flowering to transform the world's factual darkness into precarious splendor.
Copper Canyon Press, WA (USA), 96 p., 2009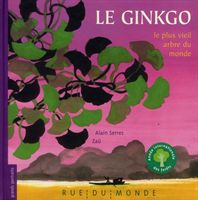 'Le Ginkgo, le plus vieil arbre du monde'
by Alain Serres and Zau
History of the Ginkgo tree (youth book).
Ginkgo paintings and photos on the cover and in the book.
Rue du Monde, Paris, 2011 (in French)
'Gold Boy, Emerald Girl' by Yiyun Li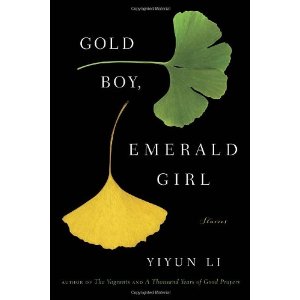 Stories. Ginkgo images on cover and mentions in the book.
Random House, 2010 - 240 pages.


Miscellaneous


'The Legend of Ginkgo', film
Fantasy epic and romance, directed by Park JeHyun. Beautiful scenes featuring Ginkgo leaves/tree.
Kang JeGyu Film, 117 min., 2000, Korean, English subtitles

'Ginkgo biloba Botschaften - Der Baum bist Du - Sind wir -' by Ben Wagin
Photos and description of projects (incl. Das Parlament der Bäume)
by Ben Wagin, artist in Berlin.
Published by Jovis Verlag, Berlin, 2002 (in German)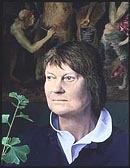 Portrait of Dame Iris Murdoch by Tom Phillips:
"Right from the start I had wanted a 'bit of nature' to be present. In all her novels Iris Murdoch suddenly flings open the windows of Hampstead or the Gloucester Road and through some wangle of the plot (Five Go Off To A Sanatorium) the characters escape to the countryside, which enables the writer to show her unrivalled sympathy with the world of living things, especially the plants of the English hedgerows. To have featured an iris would have been too dumb. At our second sitting I made a wild guess and suggested a Ginkgo, and it turned out that we were both enthusiasts for the world's oldest tree. Luckily there is a fine specimen in my own garden and towards the end of the sittings I therefore put in a Ginkgo branch, painted in the manner of old botanical illustrations: I first made a separate study of it in case it might die. In the end the branch in the picture was painted directly from nature though slightly adapted to rhyme with other elements in the painting, like the collar, and the arm of Apollo."
Enlargement and more info click here.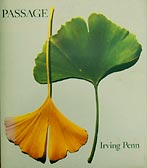 'Passage' by Irving Penn
Work record of the photographer Irving Penn. On the cover photo of Ginkgo leaves taken by Penn in 1990.
Published by Alfred A. Knopf in New York in 1991.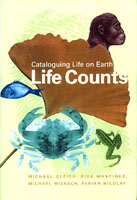 'Life counts'
Ginkgo image on the cover.
A popular account of the status of global biodiversity at the beginning of the 21st century.
"Science book of the Year 2000" in Germany and awarded a "Distinctive Merit" by the New York Art Directors Club.
Berlin Verlag, Berlin 2000 - 288 pages.
English version Grove Atlantic, New York, 2002.