.

In China the Ginkgo is depicted on a silk painting by GuKaiZhi (345-400 AD) of the poem "LuoShenFu" and on 'The Seven Worthies of the Bamboo Grove and Rong Qiqi', relief-murals on bricks of the walls of (royal) tombs of the late 4th - early 5th century AD and of the late 5th century AD (picture below and many more here). More pictures in my gallery. In the oldest classic Chinese literature the Ginkgo is not mentioned, but in the 11th century (Sung dynasty) it appeared in literature as a plant native to eastern China.
In a poem by Ou-Yang Xiu is written: "Ginkgo grows south of the Yangtze River, the name coincides with its substance. Since the nuts have been used in tribute, then it is considered precious in the Capital".
From that time on the Ginkgo is depicted on Chinese paintings and appeared in poetry. Many famous poets praised its 'fruits' and sometimes also its leaves. Especially the poets Ou-Yang Xiu and Mei Yao-ch'en, who had both official positions in the capital Kaifeng, exchanged verses about the Ginkgo. The seed is often compared with the walnut by Sung-poets which was a popular fruit of the north.
In Hsuan Ho Hua P'u, Catalogue of Paintings of the Imperial Collection of the reign of Emperor Huei Tsung (reign 1101-1125) several paintings of the Ginkgo are listed. One is titled "A picture of Yin Hsing (Silver Apricot) and the bird Pei Tou Wen" made by an artist called Yo Shih-hsuan, an official of the reign of Emperor Shen Tsung (1067-1084). Another entry lists two paintings of "A study of Ya Chio (Duck's Foot)" by Prince Tuan Hsien Wang, 4th son of the Emperor Yin Tsung (reign 1063-1066) and brother of Emperor Shen Tsung.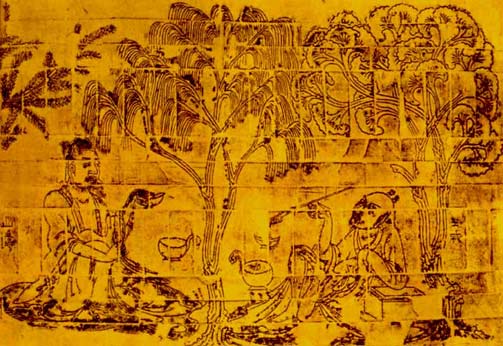 Part of relief-mural of 'The Seven Worthies of the Bamboo Grove and Rong Qiqi'
found on a tomb in Xishanqiao, Nanjing, China.
Late 4th - early 5th century A.D. Ginkgo tree on the right.
The first description of the Ginkgo found in Japanese literature is of 1530 when the poet Socho wrote in his travel diary (1530) that he had gathered yellow Ginkgo leaves and gave them to someone together with a waka.
In the Edo period the Ginkgo was described as being familiair in everyday life by Kikaku, Buson, Shoha (in haiku) and Ryokan (waka). In this period the Ginkgo is also mentioned in lists of season words used for haiku.
Yosano Akiko (1878-1942) and Saito Mokichi (1882-1953) and also ordinary people have composed verses about Ginkgo.
In prose too, Ginkgo has played an important role as an element by which people were soothed or given energy etc. in various plots of novels or stories. Examples can be found in novels such as "Hakai" by Shimazaki, "Sanshiro" by Natsume and short stories such as "Hana" by Akutagawa.
Many legends are written in Chinese and Japanese relating to the Ginkgo. In Japan the Ginkgo is often used in haiku-poems and is then called 'icho-ba(ne)' meaning Ginkgo-feather.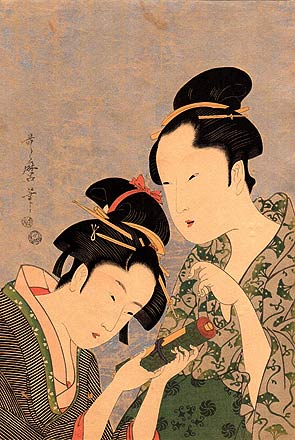 Ofuji, nickname 'Miss Ginkgo' (Icho Musume), on woodblock print
by Kitagawa Utamaro, Japan, Edo period c. 1793-1794.
Ofuji (right) with pattern of ginkgo leaves and the characters "Fuji"
on her cotton robe handing over a handscroll to Okita.
From about the 17th till 19th century the Ginkgo appeared as a motif on swords, handmirrors, ceramics, tsubas.
In 1712 the first botanical drawing of the Ginkgo for the western world was published made by Kaempfer, in 1835 followed by Von Siebold.
A watercolour of a Ginkgo branch wearing seeds (1767) by a Chinese artist working for John Bradby Blake in Canton, China, is probably the first Western documentation of Ginkgo from its native China, in the 1850s followed by a watercolour by a Chinese artist working for Robert Fortune showing a mature Ginkgo with a small human figure.


| | |
| --- | --- |
| | c |
From the 19th century on the Ginkgo motif is also found on brooches, buckles, (hair)pins, necklaces. In Japan on ceramics (plates, vases etc.), paintings, woodcarving, kimonos, , lacquerware, textile and prints. In 1815 Johann Wolfgang von Goethe wrote his famous poem about the Ginkgo.
More literature on my Literature-page.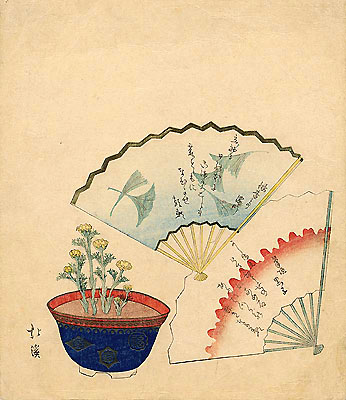 Adonis plant and two fans
by Totoya Hokkei, Japan, about 1830
In fans inscribed two poems by Ichotei Mitsunori and Fudegaki Kuroko
Surimono shikishiban, 21x18 cm
.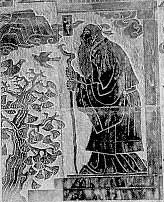 Stone tablet, Xian, China -
Confucius and the Ginkgo
.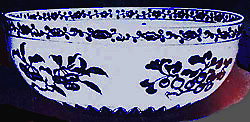 Chinese bowl with Ginkgo leaves and seeds, 15th century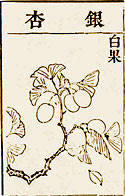 Illustration in Chinese
Pen Tsao Kang Mu - 1578




Tanka by Yosano Akiko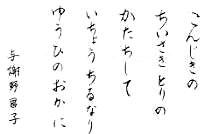 Translation from Japanese:
In garments of gold
They look like little birdies
Dancing in the sky
The leaves of the Ginkgo tree
Floating down in the late sun.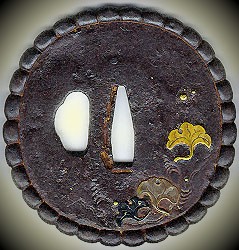 Ko Shoami tsuba (iron handguard), Momoyama, h.8.2 cm
The Ginkgo is a symbol of samurai loyalty.
photo © Jim Gilbert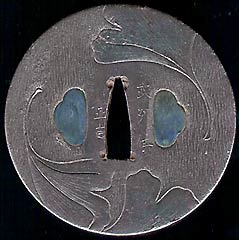 Iron tsuba: Icho-zu
Signature: Bushu Jyu Masayoshi
length: 7.99cm, width: 7.94cm
Middle Edo period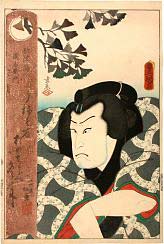 Utagawa Kunisada (Toyokuni III), portrait
with poem, c. 1861,
actor: Kataoka Nizaemon VIII or IX






enlarge
bowl with lid
China, Kangxi period
1662-1722




More pictures in
my picture gallery.
.