In China using aerial chichi for propagation has a long tradition. In places like Chengdu, Sichuan Province, the Taoist priests cut down these stalactite-like branches from the bases and planted them in pots. Eventually they grew into miniature plants (penjing) as commercial ornamentals. This practice has been carried on for generations.
An old Chinese legend:
It is said that when Emperor Kao Tsung moved from Kaifeng in the north to Nanking and Hangchow in the south in 1127, the imperial cavalcade crossed the Yangtze River into southern Kiangsu. Coming to a town called Chen I, near the city Kunshan between Soochow and Shanghai, an official named Kung I, a native of the northern capital Kaifeng, picked a branch of a Ginkgo, stuck it into the ground and prayed that if the branch lived, he would settle there.
The branch later developed into a huge tree and in later years the trunk became gnarled and twisted and adorned with many hanging 'nipples' as in other venerable trees of the same kind.
.
The great penjing master, Hu Yunhua, published a photo of a 'stalactite' Ginkgo penjing in 1987, titled 'Single Peak Piercing the Clouds' to which he added: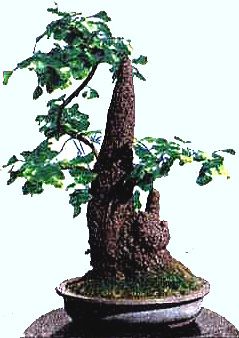 'This penjing created by an artist of the Sichuan School displays a highly unusual shape. The trunk resembles stalactite, a mineral formed through limestone corrosion. No human effort could possibly sculpture this kind of bole.
In nature, Ginkgo trees of several hundred or even over a thousand years of age frequently develop a host of stalactite-shaped substances which suspend from the trunk. If these are removed in winter and planted upside down, an incredible thing will happen – foliage will sprout off the 'stalactite'. The branches can later be wired.
A penjing of unique style, known as 'Stalactite Trunk' or 'Bamboo Shoot Ginkgo' will result.'